Trending across China
Release Time: 2014-3-18|Read: 3838 times | Print
There's not much rest for those in the media, Mickey Mouse helps an old woman make money for her son's marriage and netizens ask drivers to watch for sanitation workers after man is killed while working on viaduct.

Media workers top 10 sleepless professions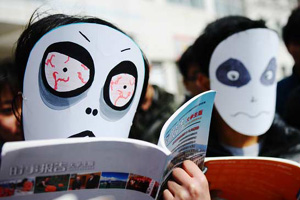 The Chinese Medical Doctor Association launched the 2014 China Sleep Quality Index research report on Sunday ahead of World Sleep Day, which falls on March 21. The research shows that, in general, the sleep quality of Chinese residents is good and has a great development trend, although 30 percent of residents' sleep quality still falls short.
The research investigated sleep quality of people from all walks of life and revealed that media workers top the list of 10 most sleepless professions around China.
Also, the report shows the sleep quality of teachers is the best.